Increase Your Car Speaker's Decibel and Quality with our Foam Speaker Rings
What are foam speaker rings?
By this point in your car audio journey, you might be pretty familiar with sound deadening material. Chances are you might even have our product already installed in your vehicle.
More than likely you are amazed by the instant increase in quality you got from your system, but did you know that that you can get even better quality and higher decibels from your speakers? It is possible to push your car speakers to their full potential with our foam speaker rings!
Our speaker foam rings are specially designed to make after market speakers perform to their full capacity preventing sound from escaping into door cavities.
These speaker rings will seal your speakers against the interior door panels and speaker mounting places, enabling the speaker to deliver the sound straight into the cabin and eliminating all sound lost in door cavities.
Our new v3 Sound Rings will fit ANY speaker size from 1" to 6x9".
Unique Car Speaker Foam Ring Design
This is the only car speaker foam ring kit design to suit all the components of your speakers in one single application! Everything from your driver, mid and tweeter is covered with just one kit, front and back!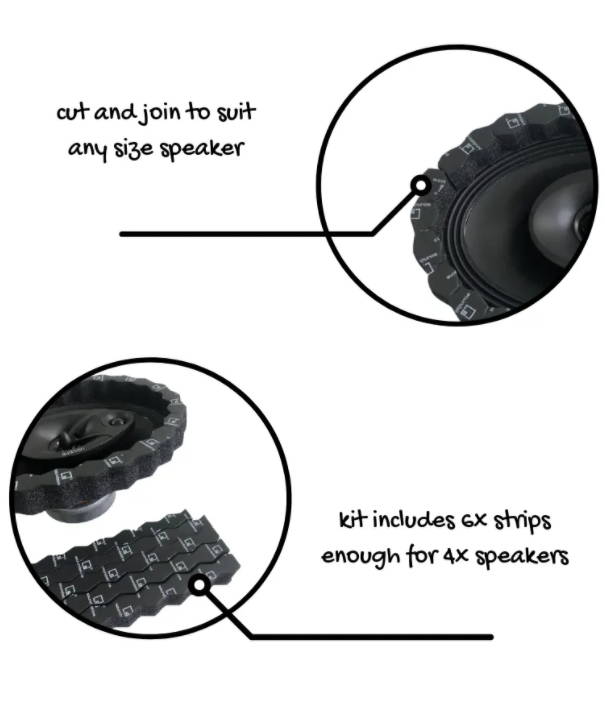 Versatile Car Speaker Foam Ring Application
Our SoundSkins foam speaker rings are made with high quality 3M adhesive, making them stackable to give you all the depth you need, and can be applied to the speaker face, around the edges, behind mounting plates and even mounted to the interior panels directly. This is a very versatile kit.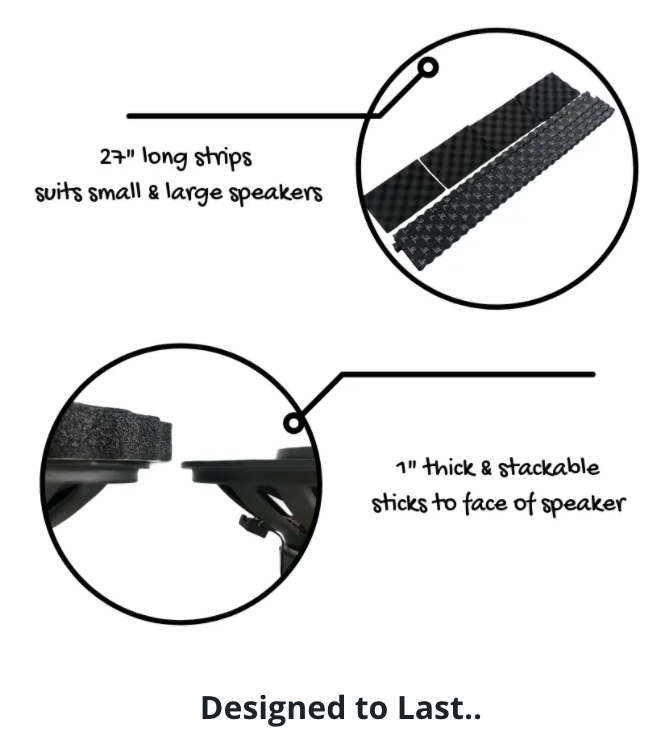 Speaker Foam Rings Designed To Last
Our competitors are using open cell foam, which unfortunately holds water and eventually falls off with time. Comparatively, our foam rings are made from a special blend of butyl rubber and CLOSED cell foam, which makes them waterproof and long lasting.
We also use 3M high adhesive for fast and easy application that will adhere to any surface, even to our SoundSkins Pro sound deadening mats.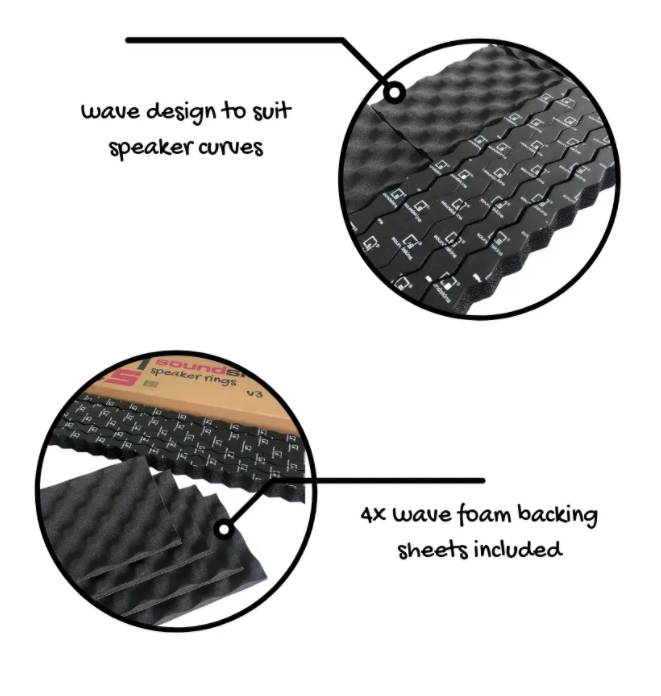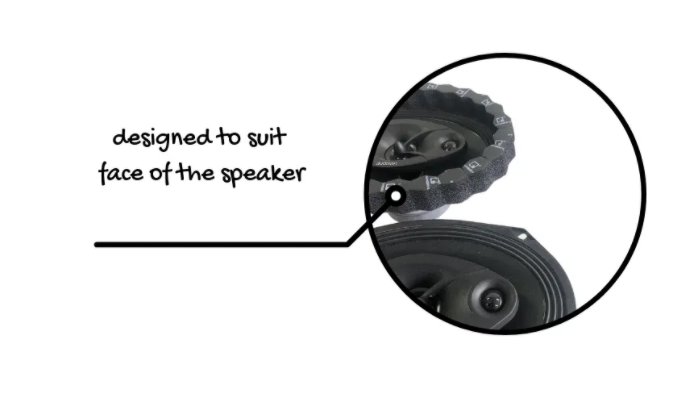 Sound Deadening Panels For Cars
While installing only our v3 Sound Rings without any sound deadening panels for cars can make a difference, it is not the ideal scenario. Our sound rings are designed to supplement our sound deadening material and we highly encourage that prior to installing our sound rings, you already have installed some sound deadening panels for cars like our SoundSkins Pro.
Pre-Cut Sound Deadening Kits for Cars and Motorcycles
Some people don't want to spend too much time on their deadening projects, and that is why we also offer Pre Cut Sound Deadening Kits. We do all the work that takes up the most amount of time.
We cut the templates from our SoundSkins Pro Plus rolls, measure our material to an exact fit per specific vehicle, run it through a waterjet machine, package them up and send them directly to you. All you have to to do is remove and clean your door panels and apply the material. This will save you hours of work!
If by any chance you are one of those installers that like to get your hands dirty, then SoundSkins Pro or Pro Plus will be best for you, as you will have to do all the measuring and cutting. Check out our full collection:
If you are trying to get the full potential out of your current speakers, it is mandatory that you first sound deaden your vehicle and then add some sound rings to your speakers. With this set up, you will honestly think you installed a brand new system in your car. You will also finally get to listen to your car audio system the way it was engineered to sound! If you can have questions, feel free to reach out. We are more than happy to help!