SoundSkins Full Coverage Sound Deadening Kit
PN: SSPROPLUSBUNDLE
UPC: 9352961046155
Looking to save on your next sound deadening installation? The SoundSkins Full Coverage Kit is the perfect bundle to help you save on all the materials you will need for sound deadening and speaker enhancement.
This kit consists of an extra large workshop roll of our wildly popular SoundSkins Pro sound damping material, a roller to help you properly install the material, our Speaker Rings, and a SoundSkins t-shirt.
The Ultimate Sound Deadening Kit
SoundSkins Pro Plus Workshop Kit covers 64.5 square feet, which is enough to cover almost every section of your vehicle.
SoundSkins Pro is a combination of 3 layers, acoustic foam, foil & rubber butyl (the black sticky stuff). This custom blend of materials allows you to layer any panels in your vehicle to reducing vibrations, loss of sound and improve heat rejection.
The rubber butyl has a high adhesive level meaning it will never never fall off once applied correctly. The foam and butyl are both waterproof and heat proof designed to stand the test of time.
SoundSkins Foam Car Speaker Rings are designed to make car speaker installs perform to their full potential with loss-less sound.
These rings will fit ALL size speakers, from 6x9" down to 1", all this in just the one kit. This Speaker Foam Rings Kit includes enough product to do FOUR any size speakers!!
Also included in the box are 4 wave foam backing sheets to put behind your speakers to cancel out back-waves coming from the speakers, which will improve your mid-bass and bass response.
SoundSkins Pro Plus Roll
Consisting of:
1x Sheet 29.5" x 315" (rolled up)
0.18" Thickness
Coverage
Weight
Material
0.12" Foam
0.059" Butyl
0.0039 Foil Liner In Between
SoundSkins Speaker Rings
Consisting of:
6x Foam Speaker Strips + 4x foam pads
1" Thickness
0.7874" Width
27" Length
Weight
Material
Waterproof Acoustic Foam
Closed Cell Rubber
1x SoundSkins Pro Plus Roll
1x SoundSkins Speaker Rings
1x Roller
1x SoundSkins T-shirt
How to Install SoundSkins Pro Plus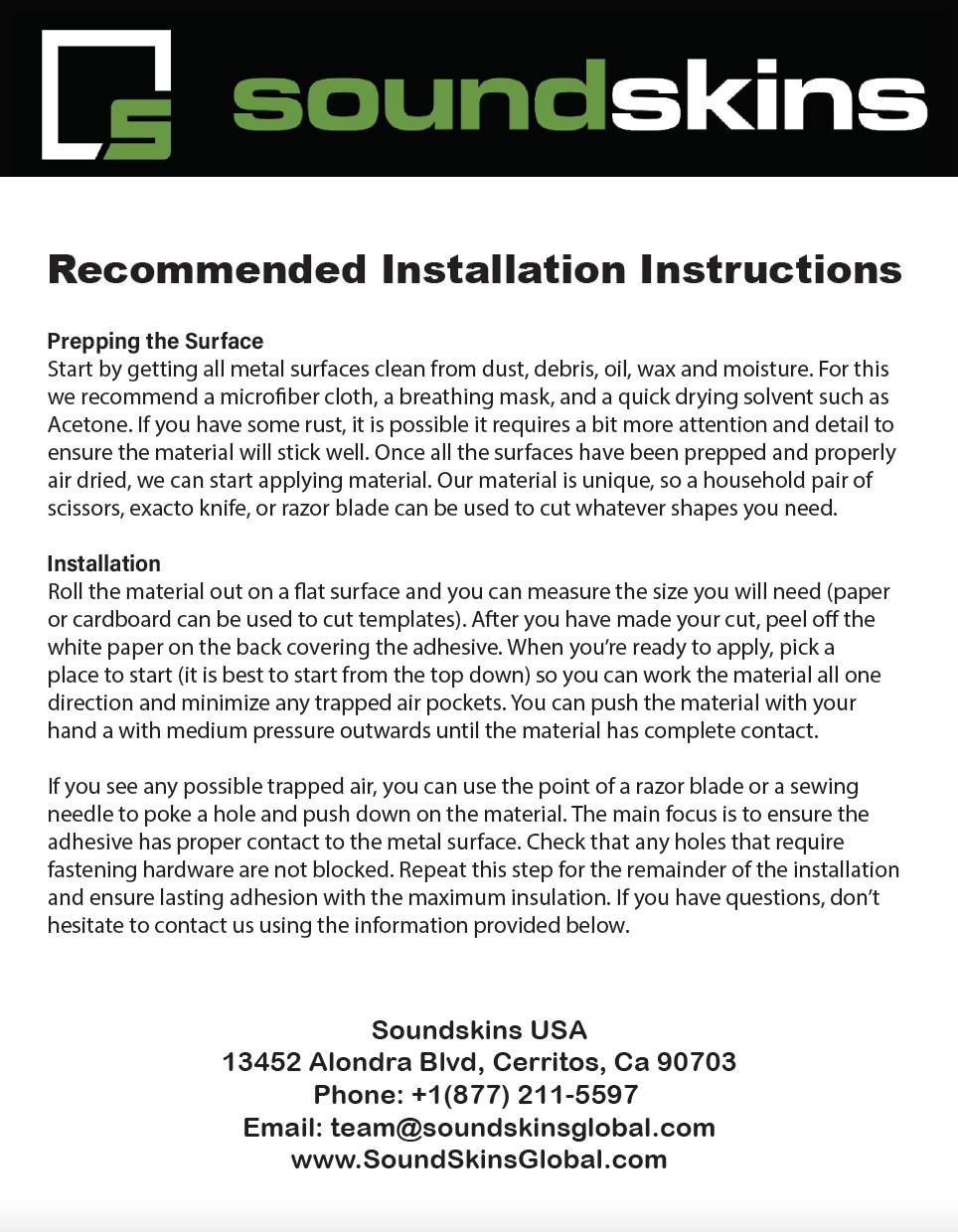 How to Install Speaker Rings