PN: SSK-RINGSV3
UPC: 9352961046148
4x Speaker Multi-Size Kit
Made To Fit All Size Speakers
PN: SSRINGS-v3
---
---
The Ring Thing...
SoundSkins Foam Car Speaker Rings are designed to make car speaker installs perform to their full potential with loss-less sound.
SoundSkins Foam Speaker Rings seal your car speakers against the mounting plates and the interior door panels. This directs sound into the cabin and reduces sound lost in all door cavities.
These rings will fit ALL size speakers, from 6x9" down to 1", all this in just the one kit. This Speaker Foam Rings Kit includes enough product to do FOUR any size speakers!!
Also included in the box are 4 wave foam backing sheets to put behind your speakers to cancel out back-waves coming from the speakers, which will improve your mid-bass and bass response.
Versatile Application

SoundSkins v3 Sound Rings are stackable, this truly gives you more depth. Also allows rings to be applied to the face of the speaker directly, around the speaker edge, behind speaker mounting plate and mounted to the interior panels. This is a truly versatile kit.
Designed to Last..
Other brands use open cell foam to manufacture their speaker rings, this type of foam holds water & eventually falls off. SoundSkins foam is composed from a special blend of butyl rubber CLOSED cell foam. which makes it waterproof and durable.

Our speaker rings also feature 3M high level adhesive. This results in fast, easy application that adheres to any surface, including our SoundSkins Pro dampener.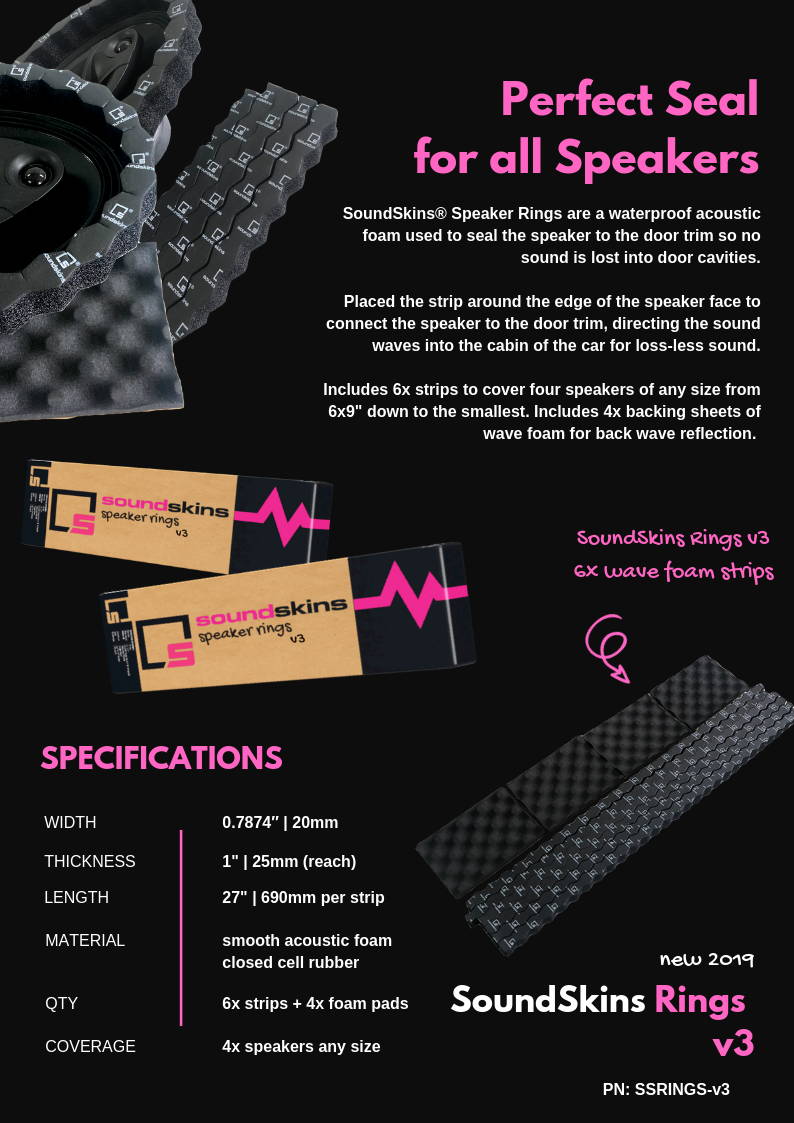 What's In The Box?
4x Speaker Acoustic Sealing Kit
Consisting of:
6x - 27" Wave Strips
4x - Wave Foam Backing Sheets
Material:
Waterproof Closed Cell Foam (Rubber Butyl Mix)
Coverage:
Specifications
Foam Strips
Thickness:
1" | 25mm (height / reach)
Width:
0.78" | 20mm (across face)
Length:
27" | 690mm (strip length)
Wave Foam Backing Sheets
Thickness:
Width:
Length:
How to Install SoundSkins Speaker Rings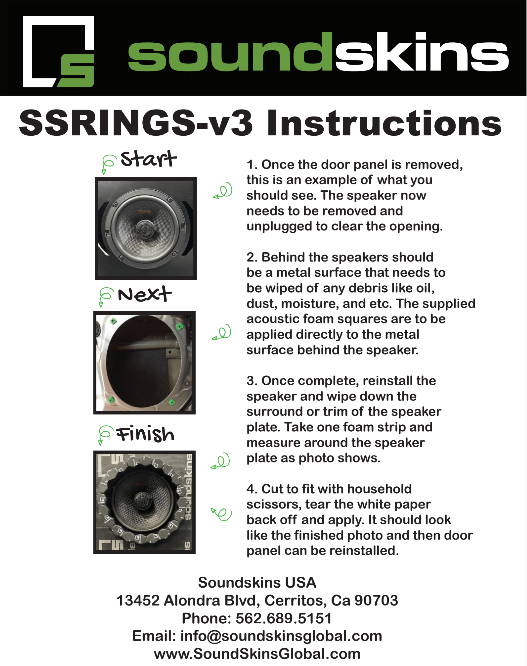 Bump up Your Audio System - Buy the Bundle!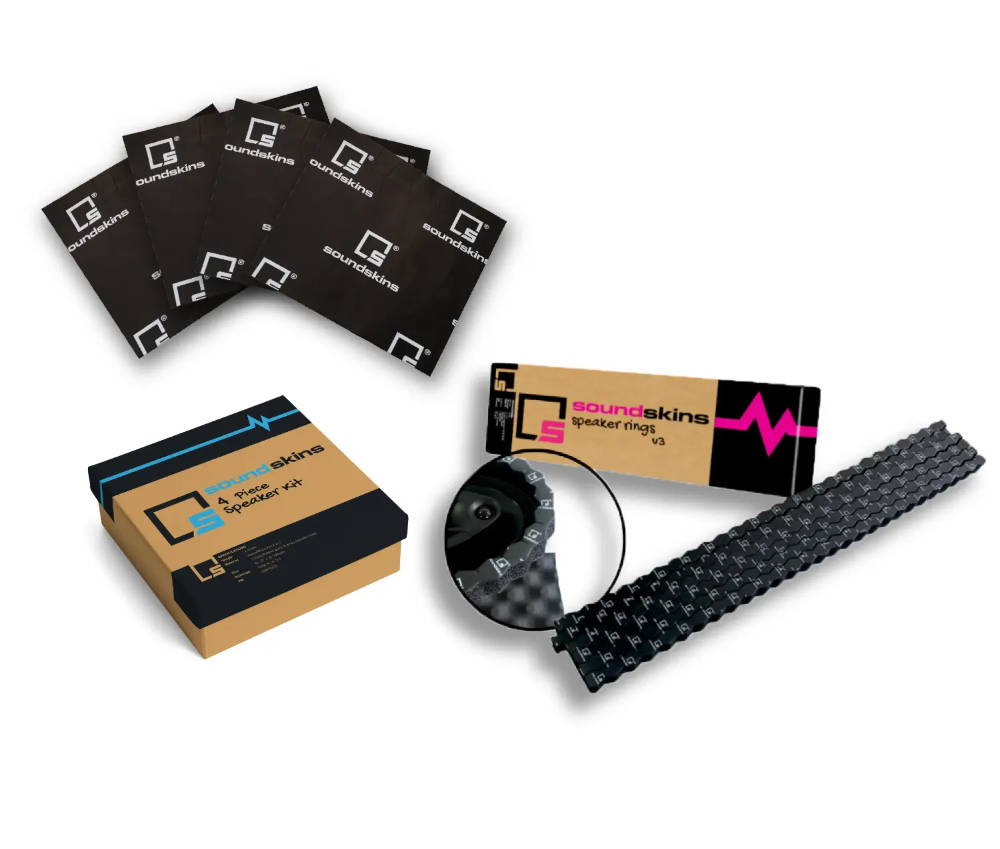 SoundSkins Speaker Enhancer Bundle | Soundproof Door Speaker Kit and Speaker Rings
Max out your car audio system's performance with the SoundSkins Speaker Enhancer Bundle! This bundle is the ultimate way to instantly reduce unwanted road noise and enhance your car stereo system!
Consisting of the best speaker enhancing products in the market, the SoundSkins 4 Piece Speaker Kit and SoundSkins Rings v3, this kit provides you with enough material to cover 4 of your speakers!
Our 4 piece speaker kit will improve your audio system's bass response, increase your amplifier output, and absorb excess noise and vibrations. SoundSkins Rings will seal your speakers against the mounting plates and interior door panels to direct sound back into your cabin and reduce sound lost in your door cavities. These two products work together to create the best sound quality possible for your audio system!